Does 2 Gals Homesteading (2GH) work with product brands and individuals? Yes.
What is the cost of working with 2GH? Usually… Nothing. At this time, we are a non-monetized website. Our concentration & focus is on producing content and the sharing of open. honest information… without the influence of paid representation.
For more information, contact Carol (carol(@)2GalsHomesteading.com)
We have recently rebranded to better represent our true direction.
Carol is co-founder (member #2) of Facebook's largest PUBLIC homesteading group. With its +186,000 members, the Small Farm, Sustainability & Homestead Living Group is the platform 2GH uses to reach up to .5 million individuals, monthly.
The Small Farm, Sustainability & Homestead Living Group has:
an average of approx. 90,000 active weekly members
a reach of 350,000-400,000 (members & non-members)
64% of our members are women.
69% of our members are between the ages 34-65.
+158,000 members reside in the US.
If you would like to see screenshots of my group's stats, feel free to ask. I make them available upon request.
Not all brands that we mention or feature are collaborations. Many brands are those that we use in our daily lives – bought & paid for by us.
2GH also shares the rights to TheHomesteadPodcast.com.  We are currently recording and producing episodes.  We have episodes published.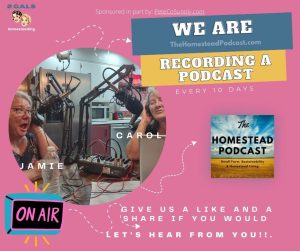 2GH is a subsidiary enterprise of MediaTrendsX LLC. (MTX). MTX is responsible for our web design, video and podcast productions.
Through MTX, we have been able to collaborate with Joel Salatin, Jill Winger (ThePrairieHomestead.com) & Carolyn & Josh Thomas (HomesteadingFamily.com).  Also, we have worked with product brands, including but not limited to, Harvest Right, Avid Armor, Moocall, EcoFlow Tech, Firman, MilkyDay, Cultures For Health, EliHome and soon, we hope  be working with you.