It's not everyday when one has total access to a butcher.  In this episode Carol & Jamie takes advantage of the chance to discuss some of the details that are involved before, during and after purchasing an animal for butchering.  As a customer, a producer/farmer and a butcher… all things are on the table.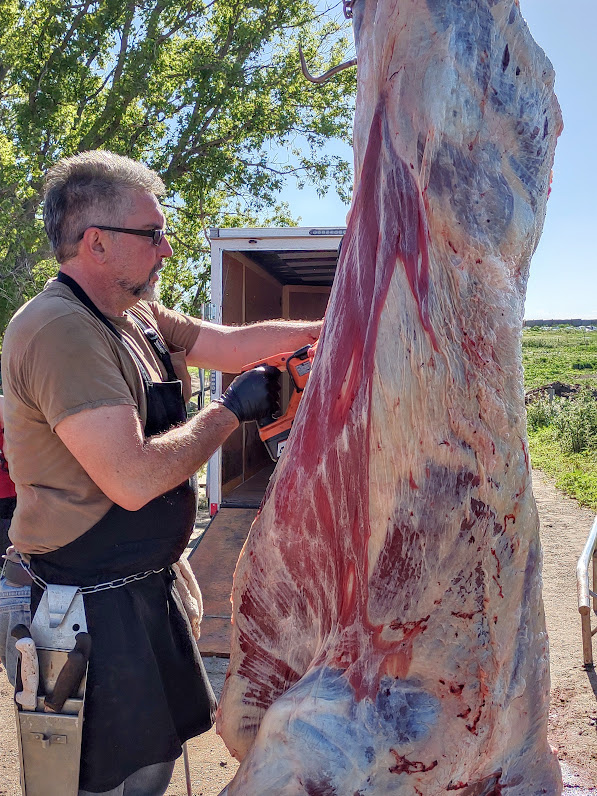 Thad Erickson of Full Circle Meats on the Road Custom Cutting is our guest for this episode.
Thad gives us a first-hand rundown on what to expect from your butcher, when ordering your first beef or hog from a local farmer. He describes what can and cannot be harvested from an animal as well as the advantages of ordering a whole animal vs. a half… and a half vs a quarter (aka as a half of a half).
As a farmer, Carol gives her insights from a producer's point of view, why and how she prices the animal the way she does and explains how some of the past on-farm butchering has gone.
Jamie asks some great questions. She understands how lost a first-time customer can be when purchasing a live, whole or half beef or hog directly from a farmer. Dealing with a butcher, before, during and after the purchase can be a intimidating.
About Thad Erickson:
Thad was a grocery store level meat mananger, in the Minneapolis/St Paul, MN area for a number of years. During the pandemic, because of the meat processing plants shut-down crisis, Thad and a hunting partner helped hog farmers from the Rush City, MN area process and sell their hogs. Because of this positive experience, they took their meat cutting business to the next level. They decided to process meat full time, settling in the Kerkhoven, MN area.
PeteCoSupply.com is generous supporter of this podcast. Their sponsorship gift allows us to pay for the hosting of this podcast.
Visit PeteCoSupply.com
PeteCo Supply is a small, family-owned business located in the heart of farmland in central Iowa. We take pride in providing you with the best service and products in one place. We bring over 25 years of customer service experience, strong relationships with vendors, and strong product knowledge to one place. PeteCo Supply is where Quality Meets Service, and we're dedicated to making your shopping experience seamless. PeteCo Supply is a financial supporter of this podcast. The financial gift pays for the annual hosting fees neccesary to distribute our episodes. They work closely with vendors, distributors, and manufacturers, who will often ship the product directly to you. Although they're looking to expand services, they only ship within the United States at this time.